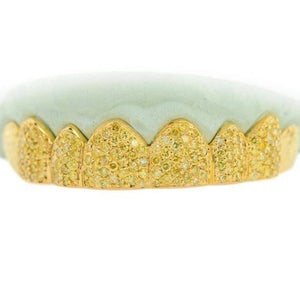 Yellow Canary Diamond Grillz Top & Bottom Set
Click Here to shop this style in top or bottom
Product Description
Introducing the most amazing grillz you will ever lay your eyes on – the Yellow Canary Diamond Grillz Top & Bottom Set! These beautiful grillz include12 teeth, 6 top and 6 bottom. This set is fully flooded with authentic yellow canary diamonds, SI Quality. They shine and sparkle in the light and are sure to turn heads wherever you go.
*To upgrade your diamonds to VS or VVS simply email us at support@grillzmasters.com or call/text (401)268-7387 for pricing
Removable grillz custom fitted EXACTLY to your teeth. FREE mold kit included! After an order is placed, a mold kit will be automatically shipped. Included are instructions on how to take an impression and a return label to ship your kit back. Your custom grillz will be mailed to you in 7-10 business days after we receive the mold kit. 
Questions? Simply email us at Support@grillzmasters.com or (401) 268-7387 call/text
---